No matter what the changing trends of the season are, a good pair of boots never goes out of style. There are so many out there: heel, flats, cut-out, wedge, buckled, laced and so on. However, choosing the right pair may not always be easy. To help you, we've curated a handful of styles and fashionable options that every woman should have in her footwear collection. Read through 10 different fashion tips for boots, whether it is Celine boots or Salvatore Ferragamo boots.
1. Combine Boots and Dresses
Have fun with your fall and winter outfits and accessorize with different types of boots for a trendy hip look. Pairing boots with dresses is a great combination and creates a stylish and balanced look. If your dress is short, opt for knee-length boots for added drama. You can also style a long dress with a pair of ankle boots. Look out for one that has a longer hemline for a super flattering look. If you choose to wear a short dress with ankle boots, make sure you keep the hem of your dress above your knee to show some leg.
2. The Monochromatic Look
A monochromatic look is classic and always lends an air of elegance. It is also a great way to pair those slightly taller ankle boots with ease. A pair of black tights or a black pencil skirt will create a sleek and long black line that renders the height of your boots irrelevant. You could choose to keep the whole look monochromatic or slip on a patterned top to offset your monochromatic bottom. Try pairing brown tights with gray boots; brown with brown or mustard with light brown Jimmy Choo boots.
3. The Rolled Hem, Cuffed Look
Some fashionistas like to cuff their jeans or denims so that the hem sits right at the top of their boots. You could cuff your jeans up a couple of rolls to show off an awesome pair of ankle boots. That works! You do not have to bother tucking in your jeans and it will also create an alternative look. Allow a little bit of ankle to show, it keeps your ankles from looking wide. This type of styling works best with skinny jeans, as wider legged or straight-legged jeans will tend to shorten your leg line when you roll them.

4. Layer it Up
Layering can add some serious style to your boots. A great way to layer is with socks. When layered over leggings, it makes for a cute winter look. Opt for neutral colored socks, as they will be easier to pair with a multitude of outfits. Keep the socks short, as they are easier to pull off as opposed to knee-length socks. Short socks have less bulk and don't bunch as easily.
5. Jazz It Up with Some Color
Go bold in a pair of statement colored boots. Whether you tuck your jeans in them or style them with a skirt, a pair of fiery red boots are sure to make any outfit standout. You could jazz up a dull look with multi-colored ankle or over the knee boots. Grab a pair of printed boots and allow them to take center stage! Style the boots with muted basics and a few striking accessories. You can pick boots in myriad hues or leopard prints like these Christian Louboutin boots and let your fashionista imagination run wild on different ways to style them!
6. Leggings with Boots
If you live in a colder climate, snow boots are more of a necessity than a fashion accessory. Owning the right pair can transform your everyday look. A great way to wear them is with a vibrant pair of Fair Isle leggings, and perhaps an oversized winter scarf to add to the cozy winter look. Leggings are great with ankle-length boots as well so take a look at some cool designer boots such as Louis Vuitton boots.
7. Skirts and Boots
Do not underestimate the sheer power of a classic pair of over the knee or knee-high boots. They look amazing when paired with a flouncy printed skirt and a nice drapey jacket. You could also pair a pencil or an A-line skirt with ankle boots as well. If you are under the assumption that you cannot wear boots with a full-length skirt, think again. Tall boots beautifully complement the shape of your skirt perfectly. Experiment to find out more about personal style.
8. Bare Legs with Socks
Socks are considered a very trendy accessory by fashionistas. Wear lengthy socks with bare legs for a sporty casual look. When you do this, keep the length of your skirt or dress above the knee. Anything longer will cut the line of the leg, making your legs appear shorter. Another tip that works well for this look is to keep your socks neutral. If you are light skinned and the socks are too dark, they will cut the line of your leg and form weird proportions.
9. Jeans with Boots
This is the perennial look that never goes out of style. There are so many ways to pair your Chanel boots with Jeans for a very equestrian look. Pair your skinny jeans with ankle boots in the same color palette and it's the best way to elongate your legs. You could scrunch up your jeans over the top of the shoe for a tomboyish appearance. If you fancy biker boots, it's best to keep the denim tight and smooth. Alternatively, you can half cuff your denim for a casual look.
Photo Credit – Voyagerix
10. Tuck In
The tucked in look with Stella McCartney boots creates a lean, long leg line that make your legs look endless. You can create this appearance with your denims, slim fit trousers or even your favorite pair of leggings.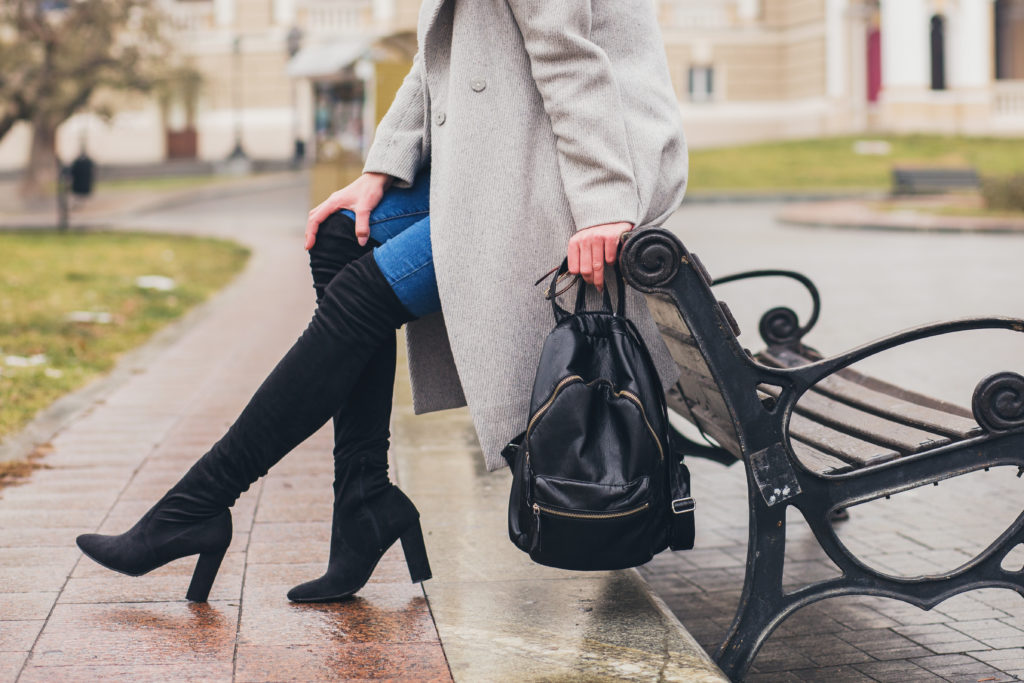 Use these tips as your boot-wearing inspiration, no matter what the style of the boots! You can create great outfit combinations and be prepared to stand out wherever you go.