A brand that has been a flag-bearer of high quality and luxurious craftsmanship, Goyard has created impeccable products for centuries which have been favorites of the fashion world.
A French luxury house, Goyard started as a trunk-making company in 1853. It's a rather discreet and elusive brand, unlike other luxury brands. Goyard is known to not advertise their products, list them on their website, or even keep the media updated about their newest launches. It helps create an aura of mystery and exclusivity and why Goyard is such a must-have brand for fashionistas.
Goyard started an year after Louis Vuitton came into existence. Goyard was previously doing business with the name Maison Martin, named after the founder Pierre-François Martin, and the inception of this dates back to 1792. However, François Goyard procured the company in 1853 from Martin's successor and renamed it as Goyard.
Why is Goyard lesser known than other luxury brands?
Since Goyard is a privately-owned company, there is more control on what they want to or don't want to advertise. They avoid all forms of social media, traditional advertising methods and e-commerce. Because the brand doesn't make its products easily available, it's difficult to get your hands on a Goyard bag. The brand had a standalone boutique in San Francisco until 2015. Now, Goyard has another store in New York and a couple of in-store boutiques in Barneys and Bergdorf Goodman. This makes it difficult to purchase a Goyard and what makes the brand a coveted one.
Goyard is known for their craftsmanship and luxurious products. With rarity and exclusivity, fake versions have hit the market. Our steps to spot a fake Goyard. Here's a checklist for you to help differentiate between an authentic Goyard and a fake Goyard:
1 . The Goyard Style
Unlike other brands, Goyard stays away from popular styles and has limited designs for the bags. One of the more expensive Goyard pieces is the Saigon that has hand-carved wood and intricate detailing. However, Goyard's most popular style is The St. Louis. This women's handbag is available in two sizes and is collapsible as well as lightweight.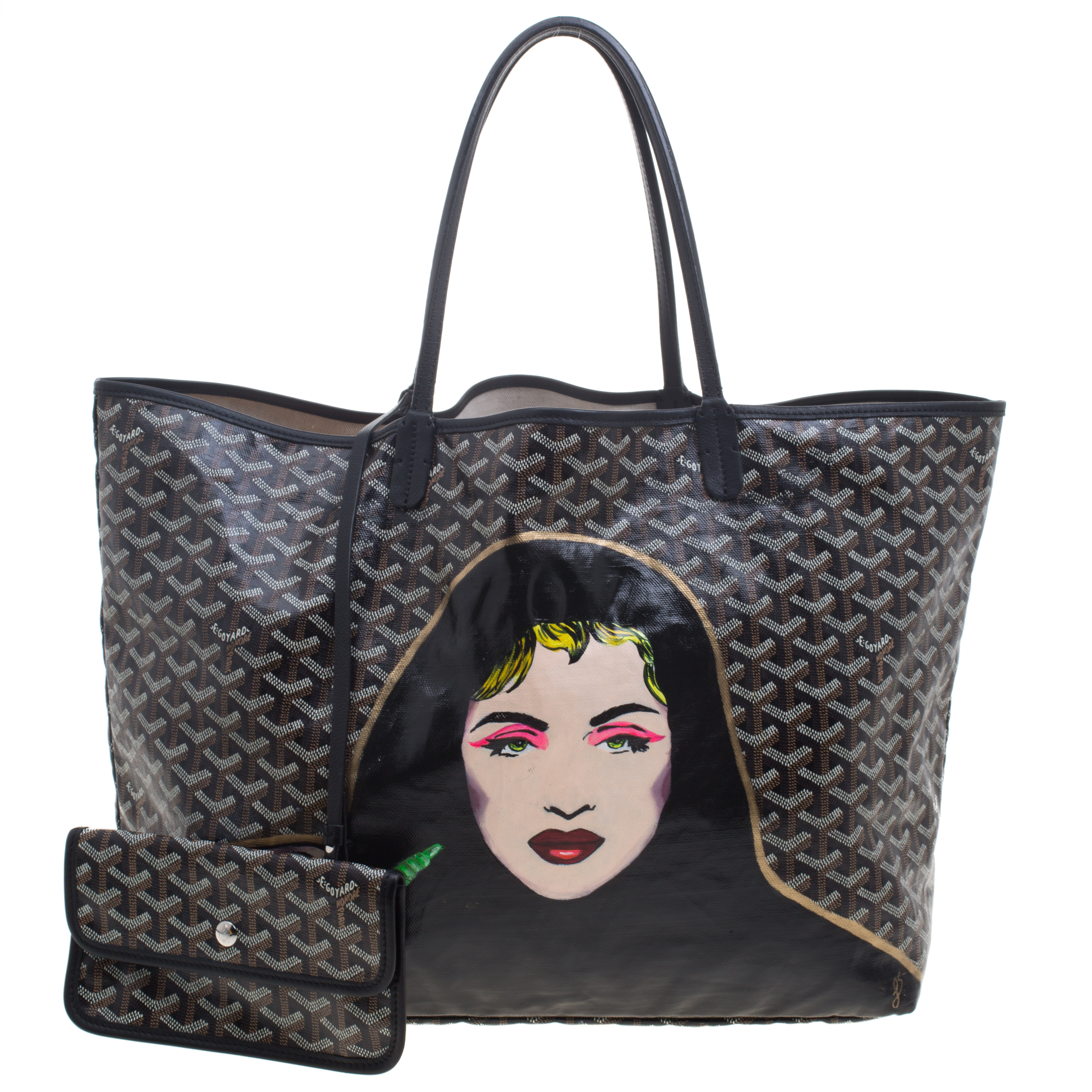 Goyard bags are priced two ways. There's one price for standard colours like the black with black trims, black with brown trims, and dark red with dark red trims. The bags that have unique colours come at a higher price point as they can be personalised to your liking with custom designs and patterns.
The Goyard Serial Number
Goyard bags have a serial number. While some serial numbers are easy to spot,others are placed a little more discreetly. On older St. Louis totes, you can find the serial number on the inside of the included pouch. The newer Goyard styles have the serial numbers embossed where the leather strap ends. This strap also connects the pouch to the tote. A good way to know if your Goyard is authentic is by paying close attention to the serial number size. If they're discreet, your bag is authentic. If the font size is larger and visible, it's likely you're in possession of a fake Goyard bag. 
The Goyard Stencilling
Goyard's Goyardine design is recognised for the hand-stencilled detail. When you're inspecting the bag, you should see the grain of the canvas through the paint and see the high gloss of the base layer of the canvas. This should contrast with the matte finish of the hand-stencilled detailing. A fake Goyard will have all the details on a single plain and have a perfect look, which is made by digital reproduction. If you notice inconsistencies, this is a sign of quality craftsmanship as the detailing is done by hand.
The Goyard Lining and Inside Logo
Goyard is known for their signature mustard yellow cotton twill lining. This colour is also the colour of their dust bags. Previously, Goyard used chocolate brown dust bags to match their boxes. When you look at the lining, you'll notice that most linings are trimmed with a jacquard webbing with an all caps Goyard logo on the inside. Pay close attention and look for well-constructed and precise stitching. Goyard tends to have discreet and minimal hardware, including zipper pulls without bold logos, but only with a 'G'. Sometimes, Goyard is stamped on the back of some hardware pieces.
One way to know if you're in possession of authentic Goyard women's bag is by checking the handles of the bag. A Goyard bag will never have plastic-covered handles or have leather tags on the handle either. If the bag has these elements, you have a fake Goyard.
Before you purchase a Goyard, you should know that these bags are sold at selected retail locations. The best thing to do is check their website to see if you're purchasing the bag from an authorized Goyard store. If you end up buying a second-hand bag, you should ask for the original receipt.
Goyard bags are designed to be exclusive and come with a hefty price tag. Before you buy the bag, look closely at the bag and keep the above checklist in mind. If the bag has all the signs of an authentic Goyard design, go ahead and add it to your handbag collection!