What Shape of Sunglasses Suit My Face Type?
Sunglasses are a must-have possession when it comes to accessories. They protect your eyes and at the same time, serve to make you look stylish. When you choose to buy a good pair of sunglasses, always strive to buy only the best. Branded sunglasses are better choices because they are quality assured and made scientifically. There is a misconception that only reading glasses need to have the best quality lens but even sunglasses should have lenses that are high quality, as it affects vision and health. When it comes to women's sunglasses, there is a whole variety to choose from, but there are always ways to better know which are the right ones for you!
A Guide to Buying The Right Sunglasses For You
Eye Protection
The first and primary focus should be to choose glasses that will ensure maximum cover for eyes and ensure good eye protection. There is a misconception that the level of eye protection depends on the darkness of the lens but that is not true. The best sunglasses are those that will absorb ultraviolet rays of the sun effectively. Look for such glasses.
Fit
The second factor to choosing the right pair of sunnies is the right fit. If you are buying offline, then you should try it on. It should fit well across the nose bridge. If you are buying sunglasses online, then look for the measurements or the sizing.
Quality
The lens quality is important. So, look at the lens material and read about the features. The frame quality is also an important consideration. When you buy designer sunglasses, you should be assured of all the key factors, along with the stylish design and of course, quality lens and durable frame. The material of the frame can be metal, plastic or even nylon. Since it is the frame that holds the lens together, its structure and quality are of much importance while buying sunglasses.
Lens
See what the material of the lens is. It can be glass, polycarbonate or even plastic. There are also prescription sunglasses for those who are already wearing glasses for myopia or any eye problems. Of course, depending on what additional features you look for in your sunglasses lens, they can be scratch-resistant, anti-reflective or high-contrast lens. Then there are the colors to consider, as you can choose from different colors or just clear glasses.
Tips to Find The Right Sunglasses That Suit Your Face Shape
Oval Face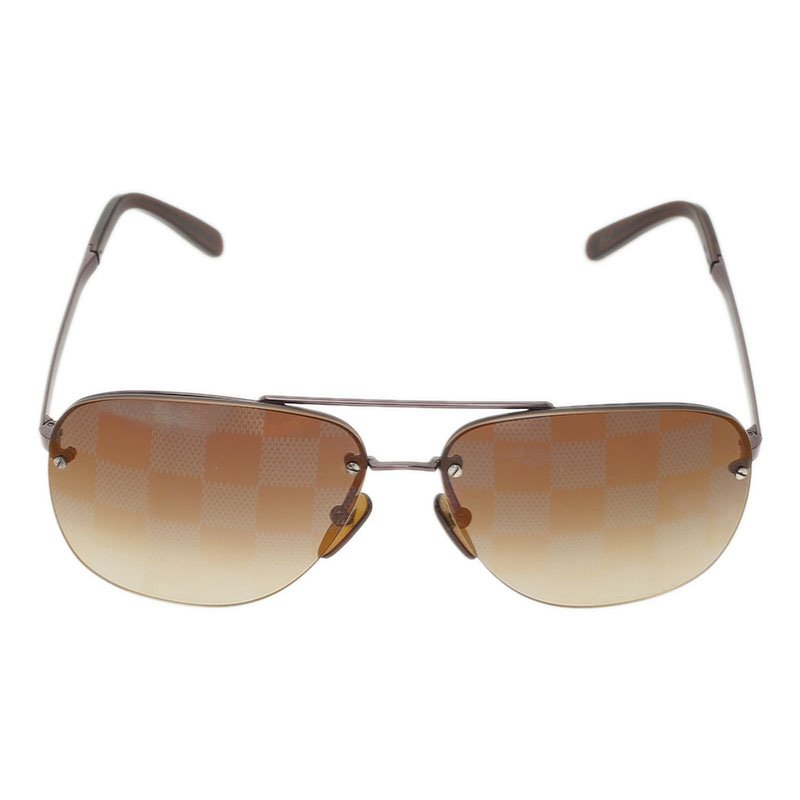 If your chin is narrower than the forehead, you have an oval face. They are the lucky ones as every type can suit this face shape. So, go wild and choose your favourite! Look for any style from any brand such as these Jimmy Choo sunglasses and enjoy the sun! Louis Vuitton sunglasses also offer many choices when it comes to fashionable sunglasses. An example is the Louis Vuitton Brown Socoa Damier Aviators which are just right for oval faces. The metal frame and the gradient lenses offer great sun protection and the Louis Vuitton design ensure that you look great!
Round
If the width and the length of the face are the same, then you have a round face. Wear wide and rectangular sunglasses and accentuate your round face. Round frames or even the sunglasses with colored lenses should be strictly avoided. There are some great designs from Dior sunglasses for round faces. An example is Dior Brown Black-Tie Rectangle women's sunglasses. The classic tortoise design adds to its appeal while fading brown lenses lends glamor to your look. The hinges that have a monogrammed silver tone the criss-cross design on the temple gives it a unique style. Certainly, these are the ones worth flaunting.
Square Shape
If your face has well-defined angles in its prominent areas such as jawline, forehead, and cheeks, then you have a square shaped face. Round and oval frames will suit square faces. Never opt for angular sunglasses or even geometric ones. Look at some such as these  Havana SPR27N Baroque Round sunglasses from Prada sunglasses collection. The first thing that will strike you about the glasses is the architectural arms. They have a gold-tone and have round frames. Made from acetate, these glasses are just right to make your own fashion statement. It is not just devils who wear Prada as stylish fashionistas certainly do as well!
Heart-shaped Face
Broader forehead and narrow chin is a heart-shaped face. Opt for round sunglasses or the cat eye shapes one's. The black FS5143 Cat Eye sunglasses from Fendi sunglasses would be a good choice. They are durable and provide great UV protection, and their black gray shade lends the right style.
Oblong Face
Narrow chin and a long face are qualities of an Oblong face. Go for the oversized frames, but even wrap frames will look super stylish on such faces. For a variety of styles and frames, look amongst Gucci sunglasses and you will be awe-struck. If you have an oblong-face shape, then the Gucci Black GG 3616/S Guccissima oversized sunglasses are the right ones for you. The oversized shape will not only flatter your face but will also add to your style statement. The logo shines on the temple which you can flaunt to draw in awe and admiration.
With such different styles, designs and brands to choose from, buying sunglasses can be fun and a little overwhelming. Just focus on the features, the right shape, and the material and quality of lenses, and then go shade shopping! Look at different brands and see what you like best. Remember, buying sunglasses in not just to look good, but also to protect the best asset of your face– your eyes. So, choose carefully and you will be shining under the sun!