The first scarf created by Hermès in 1937 was based on a woodblock drawing by Robert Dumas. Today, the iconic accessory thrives in abundant versions while embodying the essence of the French Maison's rich heritage of luxury.
Why are Hermès scarves special?
Hermès scarves are special for many reasons. Reportedly, it takes over 18 months of labor for skilled craftspeople to create them. The delicate work of art is produced in France and lovingly collected worldwide. Each piece tells a story through vivid colors and motifs, and just like fine wine, Hermès scarves from both the vintage and new collections increase in value as the years pass.
Below are six key points on how to spot a fake Hermès scarf:
1. Choice of Fabrics
The composition of an Hermès scarf is a crucial factor in determining its authenticity. To make their scarves, the brand uses 100% silk loomed in-house and a blend of wool, silk or cashmere but never polyester. The scarves will be lightweight and silky in feel and will always hold shape.
2. Print
Possibly the easiest checkpoint to spot a fake Hermès scarf is the print quality. Hermès employs an arduous method of screen printing—a technique which involves the illustrations being printed on delicate fabrics using separate screens. This painstaking effort yields results that are clear and crisp, void of any fading or smudges.
3. Artist's Signature
To create an Hermès Carré, the French Maison draws on the expertise of talented artists and their ingenious ideas. Ranging from themes of history to nature, each work is no less like a window into the creator's imaginative mind. In likeness to other forms of art, some scarves proudly hold the signature of the artist along with the copyright Hermès logo. Notable illustrators include Alice Shirley, Françoise de la Perrière, Annie Faivre and Hugo Grygkar.
4. Neatly Rolled Edges
After the scarf is almost ready, the edges are gently rolled by hand towards the printed surface of the fabric. The rolled borders are then hand-sewn with care by artisans and will not have any loose ends. Any untidy seam or overlock stitch should be considered a warning sign.
5. Care tag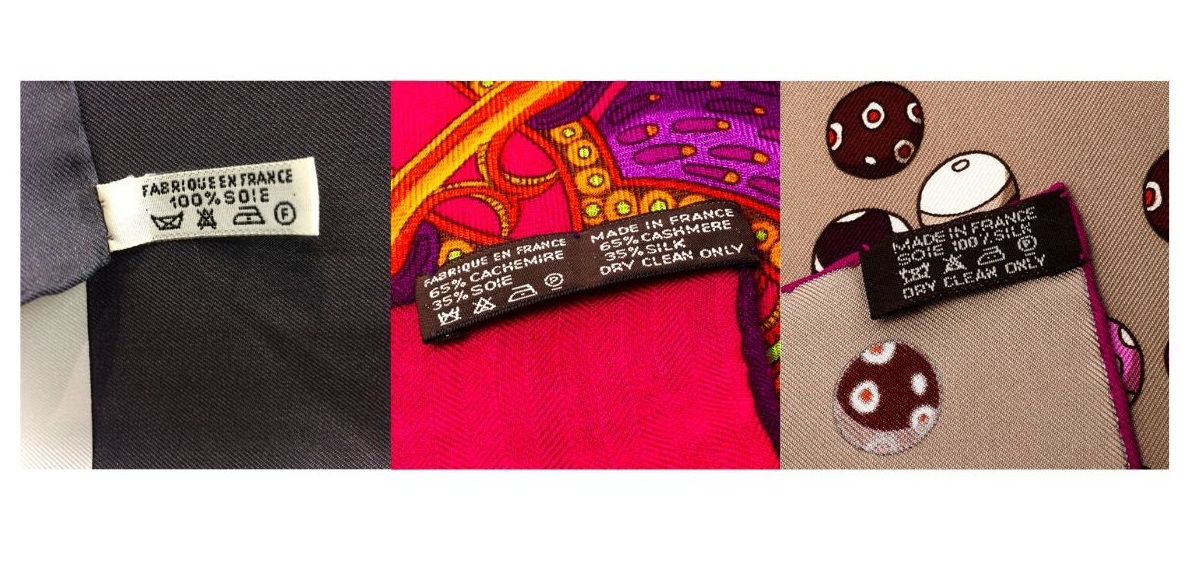 Initially, Hermès scarves did not feature care tags. By the 1950s however, a small folded tag made an appearance. Over the years, the care tag evolved from a fold to a rectangular one as seen on modern releases. A care tag is significant as it can help determine the date and originality of the scarf. But just because there is no care tag does not imply that it is fake. The scarf could be an old issue or removed deliberately by the owner.
6. Packaging
Although an authenticity card is issued to support the value of a product, Hermès scarves do not come with one. A real Hermès scarf will be accompanied only by a signature orange box that should be slightly textured.
Amidst a sea of digitally-printed scarves, an Hermès Carré stands for timeless beauty truly destined to be passed down generations. If you're looking to buy one, watch out for the above signs to make sure you get your hands on an authentic and classic Hermès scarf.