The enigmatic beauty of lucky charms glorified by the magnificence of fine jewelry gives rise to a creation that has gone down in history as one of the most iconic jewelry designs ever made. Emblematic of the brand and its values, Alhambra is a beautiful tale of stones, metals, and fortune.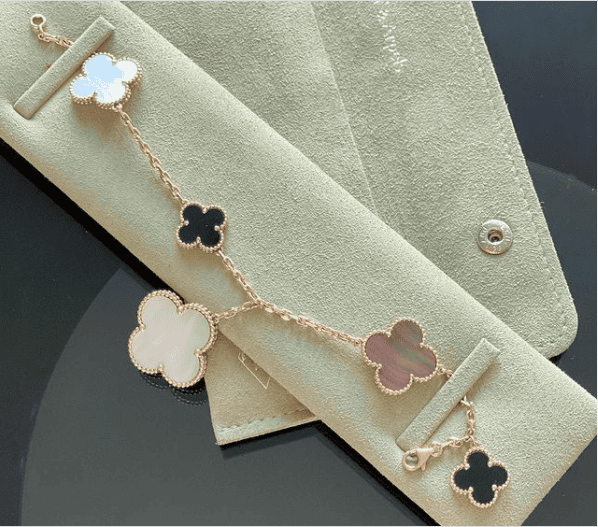 Luck as a theme has been central to the house of Van Cleef & Arpels since as far back as 1906. During the 1920s, the four-leaf clover motif, now a famous symbol, was first seen in the Maison's archive. Jacques Arpels, the nephew of Alfred Van Cleef and Estelle Arpels, was a firm believer in luck. As a token of good fortune, he used to hand over four-leaf clovers, picked from the backyard of his residence in Germigny-l'Évêque, to his employees. 
Subsequently, the idea of luck and lucky charms fostered several avant-garde creations from the Maison. However, the most distinctive and groundbreaking was the Alhambra necklace. This iconic Van Cleef necklace made its debut in 1968. The original design was a long station necklace sculpted from gold featuring 20 clover motifs with beaded contours. 
The Alhambra was an instant success. It became a revelation in an era when women began to be more interested in everyday staple pieces than high jewelry that was earmarked for grand, formal events. The design caught the attention of many famous women counting Romy Schneider, Françoise Hardy, Elizabeth Taylor, and Princess Grace of Monaco. She owned not one but several Alhambra necklaces, which she wore in heavy rotation.
The Evolution of Alhambra
The resounding success of the Alhambra necklace gave way to myriad beautiful renditions of the archetypal clover symbol. The Maison eventually introduced rings, bracelets, and earrings under the Van Cleef Alhambra collection featuring the clover motif inlaid with various colorful stones such as agate, turquoise, mother of pearl, carnelian, onyx, and more. 
Furthermore, Van Cleef & Arpels also launched a number of sub-collections in addition to the original Vintage Alhambra—Magic Alhambra, Sweet Alhambra, Pure Alhambra, and Lucky Alhambra. Each of these collections is unique in its own right while being in tune with the signature aesthetics and the philosophy of luck.  
How to Spot Fake Van Cleef & Arpels Alhambra Jewelry
The collection that has been reigning the jewelry realm for more than 50 years, transcending any season or trend that came by, is something everyone wants their hands on. Hence, if you're meaning to give yourself up to the pleasure of buying an Alhambra creation, we caution you not to fall victim to a fake piece. Learn with us how to spot fake Van Cleef & Arpels Alhambra jewelry.
Metals
The purity of metal is a patent sign of authenticity in Alhambra jewelry. Van Cleef & Arpels strictly use only pure 18k gold and platinum to model all their jewelry, including Alhambra. Necklaces, bracelets, rings, and earrings are made available in a choice of gold—rose, white, and yellow; each polished delicately to exude a sparkling glow.
Gemstones
Alhambra is a beautiful celebration of ornamental stones and their unmissable charm. Consequently, the Maison is highly selective about the stones used in Alhambra jewelry. Diamonds used are of the highest color grade, i.e., D, E, and F, and the clarity range FL (Flawless) to VVS2 (Very Very Slightly included). Other gemstones such as onyx, carnelian, and malachite are also picked only of superior quality. The house sources white mother of pearl predominantly from Australia, whereas the grey mother of pearl is specifically brought from French Polynesia. 
Any Alhambra jewelry that does not adhere to the gemstone quality as mentioned above is probably a fake one.
Craftsmanship
Every detail of an Alhambra creation speaks of excellence and unparalleled craftsmanship. Consistency in quality and precision in construction is gracefully evident in every piece. Hence, a minute inspection of the signature design elements and signs of construction can help distinguish the real one from a fake. Unpolished metals with a poor finish, loose clasps, joints, and prongs in a new piece, the irregular shape of the clover motif, unclean stampings and hallmarks, and the improper setting of stones are all signs that the Alhambra jewelry you own is fake.
Hallmarks and Brand Identifiers
Each Alhambra piece is marked with a serial number, the brand signature, and the metal trademark. As previously stated that Van Cleef & Arpels only use 18k gold and platinum in all their jewelry pieces; hence, any Van Cleef bracelet, ring, necklace, or earrings made from gold will have 750 or Au750 engraving. While earlier the Maison used the insignia 'Van Cleef & Arpels', now 'VCA' is more commonly used across all creations.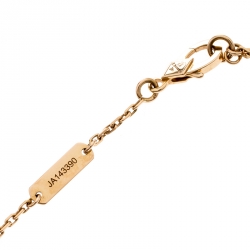 The placement of the engravings in Alhambra jewelry differs from piece to piece. Generally, in necklaces and bracelets, you may find the hallmarks either on the plaque and the clasp or on the side of the motif nearest to the clasp. Fasteners in earrings usually carry the trademarks, and in Van Cleef rings, it is mostly set on the bottom of the shank.
Aware of these telltale signs of authenticity, you can now buy any Alhambra design with confidence. So, bring luck and good fortune into your life by shopping for authentic Van Cleef & Arpels Alhambra jewelry from our curated collection here.