The quintessential aesthetic of Dior bags and, in fact, the label as a whole can be easily defined as a dreamy association of feminine allure and elegance. A subtle, refined approach is expressed through chic designs decorated with understated elements. A balanced blend of classicism and contemporary, Dior bags are timeless, enigmatic, and era-defining.
Dior was founded in 1946 when couturier Christian Dior opened his boutique at 30 Avenue Montaigne, Paris. He instantly became an industry favorite with his first collection, famously called the New Look. Even though the Maison expanded into more categories after championing couture, the brand did not foray into the world of handbags as vivaciously as it does today until Marc Bohan arrived at the scene and designed the ever-iconic Oblique monogram. Since then, the stylish monogram that features the brand name in italics has been used over every Dior bag.
From John Galliano's frenzy-creating Saddle bags to the epitome of elegance, Lady Dior and Maria Grazia Chiuri's liberal and functional Book tote — Dior handbags have been important instruments of propagating Dior's dominance over global fashion. 
Read on to find the best Dior bags to splurge on:
Like the incessant admiration received by the woman who inspired it, the Lady Dior bag will always be a favorite among fashionable women.  In 1995, France's first lady, Bernadette Chirac, gifted a Dior bag to Princess Diana on her first visit to Paris. The princess liked the bag so much that she got herself a few of them and was spotted carrying them on different occasions. 
It was cue enough for the Maison, who happily christened the bag as Lady Dior in her honor. This structured handbag with demi-arched handles and polished hardware is a visual treat. In the last 26 years, this tote has gone through many iterations, and each rendition has transcended and complimented the fashion of that time. What a timeless beauty!
One of the biggest contributions of John Galliano to the house of Dior was undoubtedly the Saddle bag. Released in 1999, just when the world was about to enter a new millennium, Saddle became the poster piece for a new era. Besides, it's not always when a handbag makes a grand entry twice — Saddle's prodigious comeback in 2018 by Chiuri was certainly an exception! This trendy pochette-like bag features a unique curved bottom and the unmistakable D logo charm on the front flap. 
The Dior Saddle bag, since its introduction, has gracefully lived to the status of an It bag, and we are sure it'll continue to do so for many years to come.
Book Tote
In 2017, Maria Grazia Chiuri introduced the Book tote in Dior's Spring/Summer 2018 collection. Designed in a classic tote style, the bag featured an oversized silhouette that would let you carry everything from a wallet to a magazine or two and even more. The fashion connoisseurs fell hard for this Dior creation that soon became the ultimate travel handbag. With clean lines, a structure that holds its shape, and options of customization, the Book tote is one of the most popular Dior handbags. Presently, it has been remixed into several cool versions available in a choice of colors, sizes, and fabrications. 
Dior Caro Bag
The house of Dior named its latest handbag designed by Maria Grazia Chiuri after Christian Dior's beloved sister Catherine, who was lovingly called Caro. This Dior handbag, introduced in 2021, shares a likeness with the iconic Lady Dior bag, case in point the structured silhouette and the recognizable Cannage stitch on the exterior. It is defined by a sophisticated charm and the CD logo at the front flap in polished metal. Dior Caro comes in four sizes — micro, small, medium, and large. It exhibits exceptional quality, having been crafted from the finest material. 
The Discontinued Classics From Dior
Diorama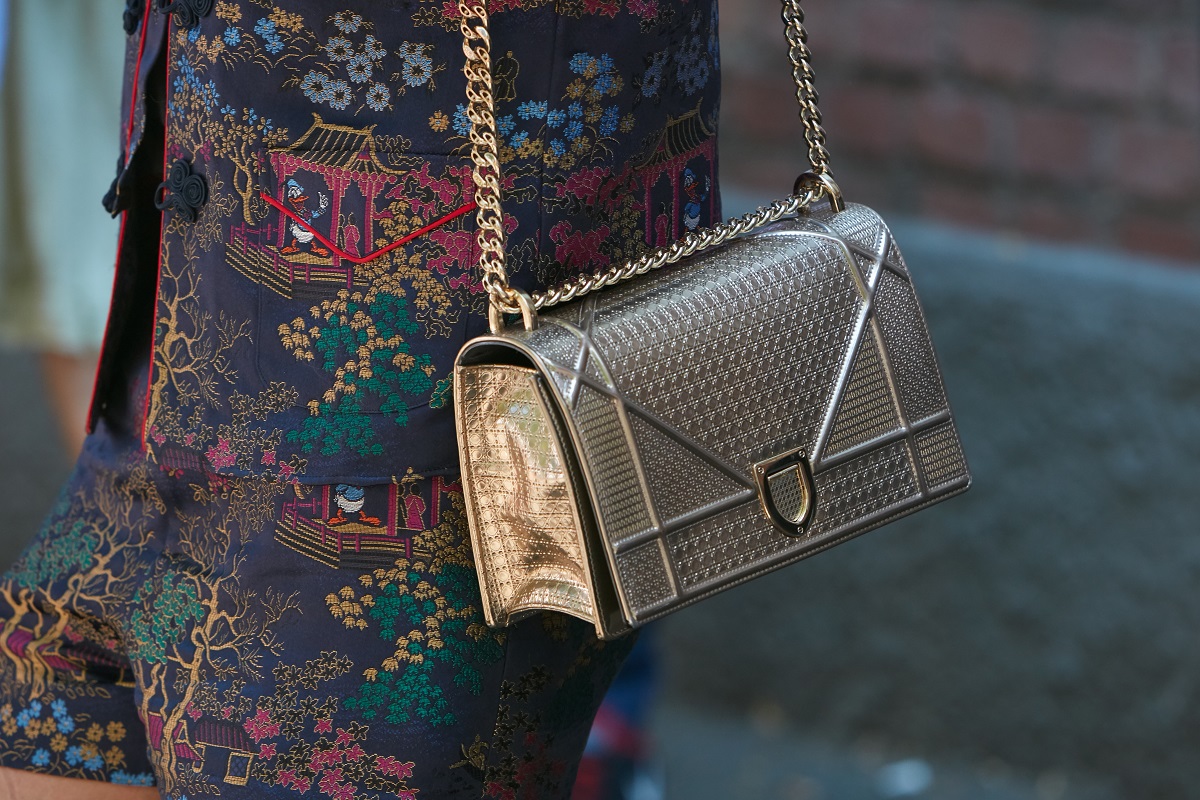 In Dior's Spring/Summer 2015 collection, the Diorama was introduced. Its elegant design featured a structured silhouette elevated by the Cannage pattern and a crest-shaped lock on the front flap. The Dior Diorama was an instant success with everyone from celebrities to models carrying it everywhere. The bag, to our despair, was discontinued in 2020. 
J'adior
The bag that was not long back the heart of Dior's handbag oeuvre, J'adior introduced in 2017, was also a brainchild of Chiuri. The distinctive design, including the unique hand-slot at the front decorated with the J'adior logo, was beyond remarkable. A versatile creation, the bag was soon spotted by numerous fashion patrons on all kinds of occasions. Even today, when all styles of J'adior have been officially discontinued, the bag boasts a high resale value in the preloved market. 
Miss Dior
Introduced in 2011, Miss Dior will always be one of the chicest styles by the Maison. Miss Dior represented the House codes most brilliantly with softer edges, a metal lock at the front, and the Cannage stitch. Perfectly feminine and surprisingly functional, it was ideal to be carried for a brunch as well as an evening gala. The brand certainly broke many hearts when they decided to discontinue it in 2016. 
Even though the brand's style is primarily elegant and chic, Dior has always ensured that it offers something for fashion maven of varying tastes. Bold, decorated renditions of Lady Dior, dramatic embroideries on a Book tote, and soothing, neutral tones of Caro make a strong promise of fashion to all its patrons. Hence, investing in a Dior handbag is both pleasing and wise. So, wait no more, and explore a wide selection of new and preloved Dior handbags here.