Bearing a long and emblematic chronology of trunk-making since the 19th century, today, Louis Vuitton is a fashion luxury house in the likes of people across ages, genders, and countries. The French label also has a history of producing handbags that are not merely status symbols but historically legendary, case in point—the Louis Vuitton Alma bag. Rounded from the top with an oblong base, the LV Alma is an unmissable silhouette that all women covet or dream of owning.
In Reverence of the Iconic LV Alma
While a lot of people own an Alma, not many are acquainted with its past which traces back to the end of the 19th century. As per the fashion lore, in 1925, Coco Chanel requested Gaston-Louis Vuitton for a travel day-sized handbag, and he ensued a compact version of the trapezoidal-shaped Steamer bag created in 1901. It was labeled the Squire and was more of a streamlined and practical iteration. Many years later, in 1955, the Squire metamorphosed into an even more structured outline and was named after the world's most famous street, Champs-Élysées, for it carried an urban charm. It was only after Coco Chanel's permission that the style's regular production began in the 1930s.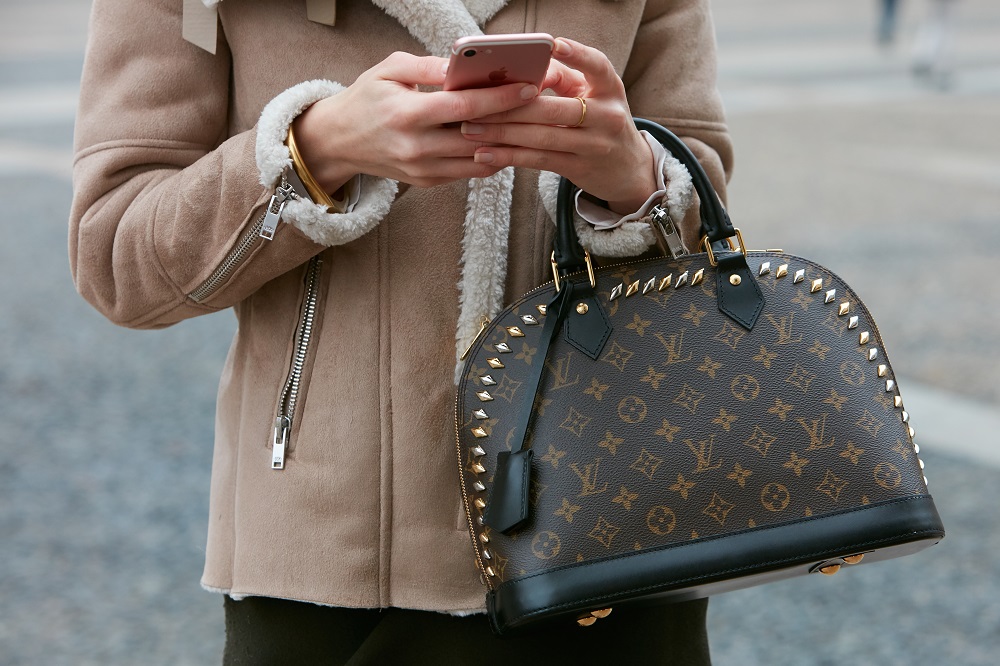 While the Champs-Élysées was eventually discontinued, the Squire lived on and was made into what we know today as the Alma. The bag adopts its name from the scenic Place de l'Alma, the tree-lined Parisian lane where the Avenue Montaigne meets the river Seine. Influenced by the art deco movement, it is sculpted in a way that radiates refinement and a classic city aura with its elegant curves, twin Toron handles, and an impliable form. The Louis Vuitton Alma will hold your 21st-century necessities and effortlessly transition from work to evening events.
LV Alma Sizes to Choose From
The design is available in six size variations, enabling you to pick the one that suits your style, needs, and lifestyle.
LV Alma

Nano

(17 cm W x 12 cm H x 8 cm D)

: The Nano collection comprises the iconic handbags in ultra-mini sizes. We are spotting more and more people donning super-tiny bags these days.

LV Alma

Mini

(21 cm W x 16 cm H x 10 cm D)

: Close to size nano, mini bags are having their fashion moment, for they make a fashion statement. 

LV Alma

BB

(23.5 cm W x  17.5 cm H x 11.5 cm D)

: BB bags often are small and come with an optional shoulder strap. We believe BB stands for "bebe bandouliere," which means "baby shoulder." 

LV Alma

PM

(32 cm W x 25 cm H x 16 cm D)

: Petit Models means a small model in French, but this size can easily fit more than just essentials. 

LV Alma

MM

(36 cm W x 28 cm H x 17 cm D)

: Moyen Modèle, signifying Medium, does not come with a strap and is one of the most popular sizes for desirable bags like the LV Neverfull.

LV Alma

GM

(39 cm W x 29 cm H x 18.5 cm D)

: The Grande Modèle is the largest size and can also be used as a travel bag to its capacity to hold your belongings.
The Louis Vuitton Alma family keeps growing every season with an assemblage of colors and materials that are true to the DNA of the Maison. The most recurring materials and leathers used to craft the bags are Damier Ebene and monogram canvas, Epi leather, Vernis, and exotic ostrich skin.

Most Re-imagined Style: The Louis Vuitton Alma
Louis Vuitton Mini Lin Horizontal Alma
In 2002 the Monogram Mini Lin was introduced in dual shades, blue and Cerise, often seen on the Horizontal Alma.
Louis Vuitton x Takashi Murakami Multicolore Canvas Alma Bag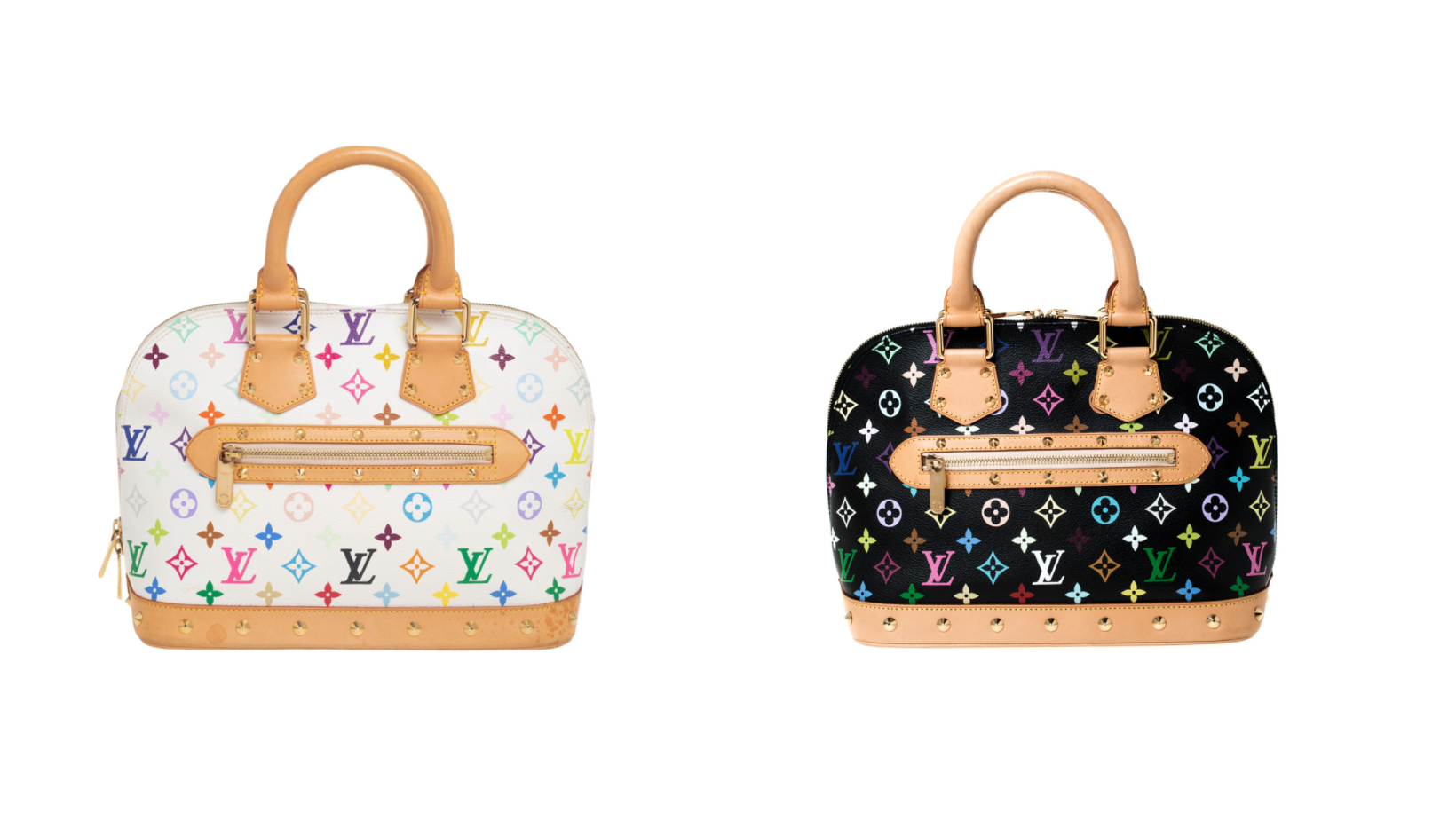 For Spring/Summer 2003, the label collaborated with Japanese contemporary artist Takashi Murakami. Recognized for his pop art and usage of vivid colors, the Alma was draped in a Multicolore canvas then ornamented with zippers and studs.
Louis Vuitton Monogram Eclipse Alma
This limited runway edition from Fall/Winter 2009— Eclipse Alma—comes with monograms overshadowed by the sequin embellishments.
Louis Vuitton Monogram Miroir Alma
Fall/Winter 2006 runway exhibited the limited-edition LV Alma draped in glazed vinyl with a metallic sheen. 
Louis Vuitton Double Jeu Neo Alma
Another one from the Fall/Winter 2009 line-up is this uniquely shaped Alma that comes with a separate bag to accommodate more of your belongings and transform into a tote-like form.
Louis Vuitton x Stephen Sprouse Monogram Vernis Roses Alma
LV's highly sought-after partnership with Stephen Sprouse gave us the cult-favorite limited-edition Alma bags made using Monogram Vernis with rose print in tones of Rose Pop and Vert Tonic.
Louis Vuitton Monogram Vernis Rayures Alma
2012 limited Valentine's Day version, this rendition is characterized by its Monogram Vernis construction and overall stripes.
Louis Vuitton Monogram Shine Alma Bag
Known for its shiny monogram canvas body and colored corner fittings, this version is a special edition work from the Paris Fashion show 2015.
Louis Vuitton Epi Azteque Alma Bag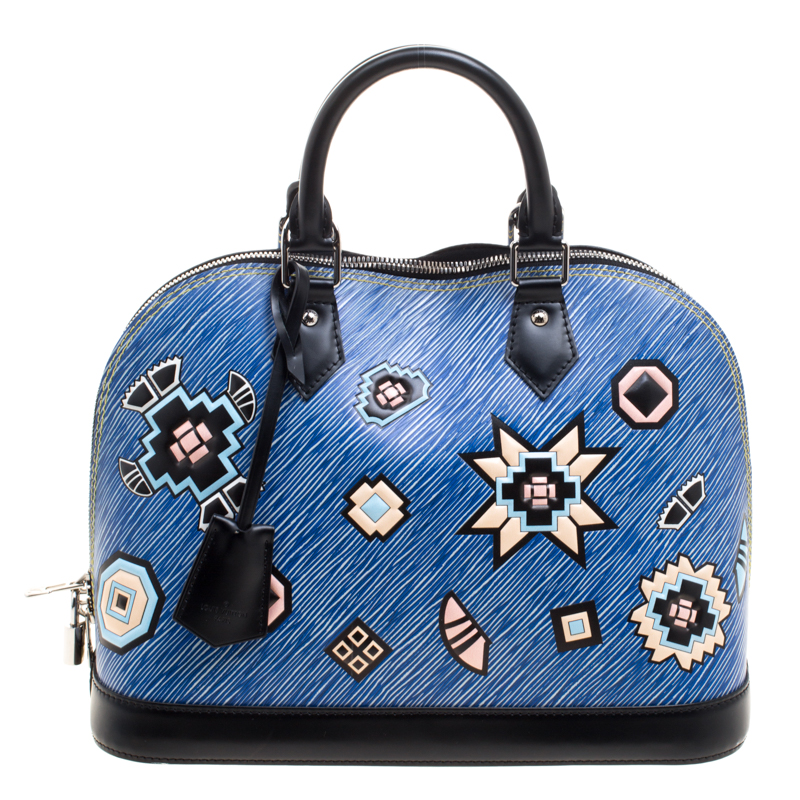 Creative director Nicolas Ghesquière's chef-d'oeuvre, the Azteque Alma is adorned with symbols that are central to the indigenous Central American cultures.
Louis Vuitton Monogram Totem Alma Bag
First seen on the runway of Fall/Winter 2015, it arrives in monogram canvas with colorful leather appliqués.
Louis Vuitton Epi Aqua Alma Bag
A special edition from the 2016 Cruise collection, this Alma is fashioned in Epi leather and livened up with aqua prints.
Louis Vuitton Monogram Macassar Limited-Edition Alma Bag
Matte black leather trims, shiny hardware, and the Monogram Macassar canvas body inspired by the hazel-brown and black striped Macassar Ebony Wood define this limited-edition Alma.
Louis Vuitton Monogram Leather Ramadan Exclusive Alma BB Bag
To commemorate the most auspicious festival in Islam, Louis Vuitton re-interpreted the Alma BB for their exclusive Ramadan 2022 Capsule collection. It is distinguished by black and emerald green hues, representative of prosperity and love reflecting the significance of Ramadan. 
From the tutelage of Marc Jacobs to Nicolas Ghesquière and the late Virgil Abloh, Louis Vuitton has preserved its rich legacy by keeping a hold of its roots. Newer creations such as the Multi Pochette Accessoires, LV Bumbag, Capucines, and New Wave have already made their way to the mondaine closets of fashionistas, while veterans like the Speedy, Neverfull, NéoNoé, and the Alma are forever keepers. 
Jackie Kennedy, Rihanna, Blake Lively, and the Kardashian-Jenner sisters are a few A-listers to name who are often spotted with their Almas. The investment-worthy Alma awaits you at The Luxury Closet, where you will love delving into the sea of new and pre-owned Louis Vuitton handbags.