It's easy to take a blank canvas and create a masterpiece, but how does one make a tour de force with an already painted canvas? Daniel Lee certainly knows how! Appointed as the Creative Director in 2018, Lee has transformed Bottega Veneta into the most talked-about label in no time. With the renaissance of the brand and its soaring popularity, every fashion maven wants a piece of Bottega Veneta. Be it an avant-garde silhouette like the Crisscross clutch or cult-favorite creations such as the Pouch or the Cassette bag, the Maison is an absolute antithesis to the logo-clad brands like Gucci, Fendi, or Balenciaga. Without giving in to the craze of logomania, Lee has accomplished in planting the seeds of desirability within fashion lovers with his impeccable understanding of today's zeitgeist.
Modern Magic Meets Artisanal Legacy: Bottega Veneta The Chain Pouch Bag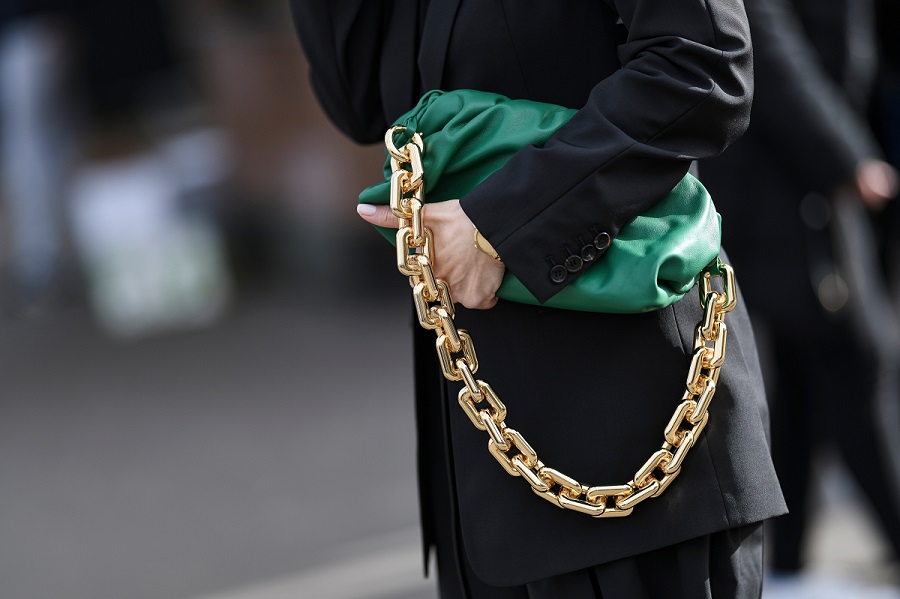 The Bottega Veneta Chain Pouch bag caused a fashion frenzy among young luxury buyers as soon as it appeared at the brand's Spring/Summer 2020 Runway show. What Lee did with the eminent label is precisely what he did to the already smash hit bag, the Pouch clutch. The shape harks back to the Bottega Veneta clutch that actress and model Lauren Hutto carried throughout the 1980 film American Gigolo. With the appendage of a chunky chain strap formed with flawlessly-sculpted square links, the Bottega Veneta The Chain Pouch bag is popped up with the right dose of glamour. Hailey Beiber, Kylie Jenner, and Emily Ratajkowski are a few of the many style icons whose closets have been invaded by the new It-bag. The design is still deeply rooted in the heritage of its Italian craftsmanship of leather goods that Bottega Veneta is prominently known for. The fierce-feminine yet refined-chic aesthetics of the style characterize it and is made highly covetable with a wide array of colorways.
The edition that has congruously made it to this week's pick is designed in a versatile beige shade from soft Nappa leather—a nod to the label's age-old expertise in leather goods. Meeting the quality of visual charm with function, this Bottega Veneta The Chain Pouch bag is given an amorphous and pliable shape to create room for your must-haves. We love how the chunky chain strap looks like a statement accessory in itself; nestle it under your arm, drape over your shoulder, or hold it from the base, the swanky chain-link will dangle like a stunning piece of jewelry. 
Taking a bold turn, Bottega Veneta has created its freshly conceived products without necessarily infusing the signature Intrecciato weave in each one of them. Lee's "new Bottega" sails forth on a journey of setting trends while strongly rooted in its rich history's essence of understated codes and artful luxury.